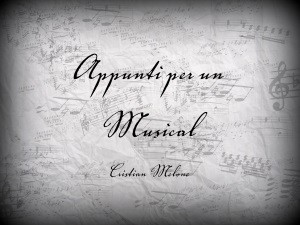 It's a long time I'm not writing on my personal blog!
Lately I'm really busy due to job and my latest venture "Notes for a Musical"; it's time to give some information about that project!
What's "Notes for a Musical"?
"Notes for a Musical" is a musical play, I started to write on 2002, while I was in a bus going toward school; during these years, slowly but constantly I've added scenes and songs and now with the help of some co-author it's almost completed.
The script is written from scratch and this is big challenge for a musical, since typically musical comes from a existing work (such as book, biography, movie, true story), this just comes out from my mind, maybe it would be not so easy to be produced but I like difficult challenges.
It's bilingual Musical just written from beginning in both English and Italian, I'm not native English speaker but hopefully I've created good base for further adjustment when and if the show will goes outside Italy.
I'm ready to perform the first workshop here in Italy on mid October 2015 if you want to know more visit http://www.notesforamusical.com (for now the site it's just in Italian but we're translating it)
What will be of my personal blog?
In this period the blog part of the site is a little bit abandoned, post present are really old and except for some crazy video and pictures there is no too much about me.
Hopefully I'll afford to find some time in order to write something about me and the latest projects I'm doing.